Important Notice
We are adapting GyanOk in accordance with the recent TDS policy changes (as outlined in Section 194BA of the Income Tax Act, 1961, by the Finance Act 2023). During this transition, withdrawals from the wallet will be temporarily suspended. However, all tournaments and competitions will remain free of charge to ensure that our users can continue to enhance their knowledge without any interruption.
23 December 2022

By GyanOk
Daily Current Affairs Notes for 23 December 2022
Indian National Farmer's Day 2022 celebrates on 23 December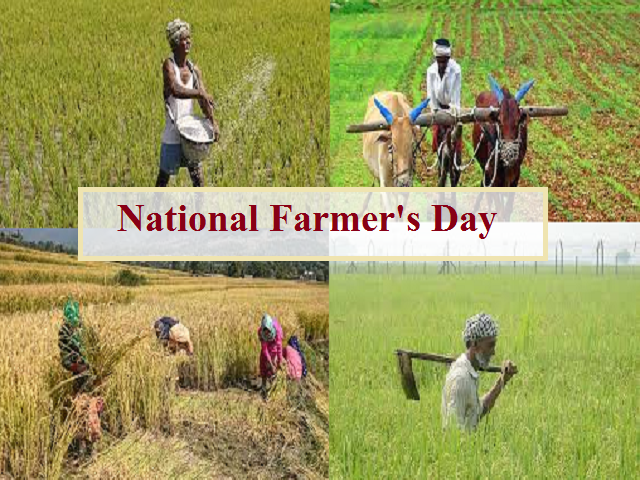 Overview
National Farmers' Day or Kisan Diwas 2022
In India, Kisan Divas is another name for National Farmers Day in India. Every year on December 23, the birthdate of Choudhary Charan Singh, the fifth Prime Minister of India, Farmer's Day is observed.
Remembering India's Former Prime Minister, #ChaudharyCharanSingh Ji on his Jayanti.#ChaudharyCharanSingh Ji profoundly fought for the rights of hardworking farmers & worked tirelessly for empowerment of the marginalized people in the society.
Why national farmers day is celebrated?
India is an agricultural nation. The day is observed to recognize and thank all responsible farmers for their contributions to society. Farmers are also the foundation of India's economy and a major factor in rural prosperity.
The majority of India's rural population, which accounts for 20% of the country's GDP, is dependent on agriculture for their livelihoods, making up nearly 50% of the population. Given that India is a nation of villages and agriculture, the tenth Indian government decided to designate Choudhary Charan Singh's birth anniversary as Kisan Diwas in 2001 to honor his contributions to the agricultural industry and the welfare of farmers. Since that time, December 23 has been observed as National Farmers' Day. To raise awareness of the value of farmers and their contribution to the economy, various awareness campaigns and drives are held on this day across the nation.
What is the importance of National Farmer's Day 2022?
The purpose of National Farmers Day is to honor the commitment and sacrifice of farmers. It is also thought to increase public awareness of the need to protect the social and economic well-being of farmers. On this day, the government focuses on giving farmers the most recent agricultural knowledge so they can boost their yield.
About Chaudhary Charan Singh
As India's fifth prime minister, Chaudhary Charan Singh is remembered for his efforts to improve conditions for farmers all over the nation. He was a pioneer in agriculture and put forth a number of policies to better a lot of Indian farmers. He was born in Noorpur in 1902 to a Jat couple.
Chaudhary During his brief time as the nation's prime minister, Charan Singh toiled tirelessly for the advancement of farmers. Throughout his life, Singh published a number of books in addition:
Under his direction, the Debt Redemption Bill 1939 was drafted and completed. The bill's purpose was to protect the rural population from moneylenders.
He led the UP in its efforts to overthrow the Zamindari system while serving as the country's minister of agriculture in 1952.
He introduced the Land Holding Act, of 1960, which aimed to lower the cap on land holdings and make it consistent across the State.
On December 23, 1978, he founded the Kisan Trust, an organization that was neither political nor profit-oriented. The trust's mission was to instill a sense of community and anti-injustice sentiment among India's rural population.
List of Miss India winners from 1947 to 2022

Overview
Miss India winners list: Femina Miss India is one of the most prominent beauty pageants in the country. Winning the title of Miss India is not that easy, as the contestants are tested on the basis of various aspects, including both beauty and brains. Miss India contestants are tested not only for their looks but also to see why they deserve the prestigious title.
Femina Miss India 2022 title at the 58th edition of the beauty contest was won by Sini Shetty from Karnataka on July 3, 2022. She was crowned by the outgoing titleholder Manasa Varanasi at the Jio World Center in Mumbai.
Sini Shetty is 21 years old and holds a Bachelor's degree in accounting and finance. Currently, she is pursuing a professional course- Chartered Financial Analyst (CFA) and is also a trained Bharatnatyam Dancer.
Miss India pageant in India
The winner of the first Miss India beauty pageant was Pramila (Esther Victoria Abraham) from Calcutta. She won the title in 1947 and the pageant was organized by the Local Press.
Two Miss India pageants were held later in 1952, Indrani Rehman and Nutan were announced to be the winners of the pageant. Indrani Rehman also later represented India at Miss Universe 1952 which was the inaugural edition of the Miss Universe pageant.
When was the first Femina Miss India?
The first Femina Miss India pageant was held in the year 1964 and Meher Castelino Mistri has crowned the first Femina Miss India.
List of Miss India winners (1947 to 2022)
| | | |
| --- | --- | --- |
| Year | Names | State |
| 1947 | Esther Victoria Abraham (Pramila) | West Bengal |
| 1952 | Indrani Rahman | Tamil Nadu |
| 1953 | Peace Kanwal | Punjab |
| 1954 | Leela Naidu | Maharashtra |
| 1959 | Fleur Ezekiel | Maharashtra |
| 1960 | Lona Pinto | Maharashtra |
| 1961 | Veronica Leonara Torcato | Maharashtra |
| 1962 | Ferial Karim | Maharashtra |
| 1964 | Meher Castelino Mistri | Maharashtra |
| 1965 | Persis Khambatta | Maharashtra |
| 1966 | Yamin Daji | Maharashtra |
| 1967 | Nayyara Mirza | New Delhi |
| 1968 | Anjum Mumtaz Barg | Maharashtra |
| 1969 | Kavita Bhambhani | Maharashtra |
| 1970 | Veena Sanjani | Maharashtra |
| 1971 | Raj Gill | Maharashtra |
| 1972 | Roopa Satyan | Maharashtra |
| 1973 | Farzana Habib | Maharashtra |
| 1974 | Shalini Bhavnath Dholakia | Maharashtra |
| 1975 | Meenakshi Kurpad | Maharashtra |
| 1976 | Naina Sudhir Balsavar | Uttar Pradesh |
| 1977 | Nalini Viswanathan | Tamil Nadu |
| 1978 | Alamjeet Kaur Chauhan | Punjab |
| 1979 | Swaroop Sampat | Maharashtra |
| 1980 | Sangeeta Bijlani | Maharashtra |
| 1981 | Rachita Kumar | Maharashtra |
| 1982 | Pamela Singh | New Delhi |
| 1983 | Rekha Hande | Karnataka |
| 1984 | Juhi Chawla | Punjab |
| 1985 | Sonu Walia | Punjab |
| 1986 | Mehr Jessia | Maharashtra |
| 1987 | Priyadarshini Pradhan | Maharashtra |
| 1988 | Dolly Minhas | Punjab |
| 1989/1990 | Suzanne Sablok | Maharashtra |
| 1991 | Christabelle Howie | Tamil Nadu |
| 1992 | Madhu Sapre | Maharashtra |
| 1993 | Namrata Shirodkar | Maharashtra |
| 1994 | Sushmita Sen | New Delhi |
| 1995 | Manpreet Brar | New Delhi |
| 1996 | Sandhya Chib | Karnataka |
| 1997 | Nafisa Joseph | Karnataka |
| 1998 | Lymaraina D' Souza | Karnataka |
| 1999 | Gul Pannag | Punjab |
| 2000 | Lara Dutta | Karnataka |
| 2001 | Celina Jaitley | West Bengal |
| 2002 | Neha Dhupia | New Delhi |
| 2003 | Nikita Anand | New Delhi |
| 2004 | Tanushree Dutta | Jharkhand |
| 2005 | Amrita Thapar | Punjab |
| 2006 | Neha Kapur | New Delhi |
| 2007 | Sarah Jane Dias | Karnataka |
| 2008 | Parvathy Omanakuttan | Kerala |
| 2009 | Pooja Chopra | Maharashtra |
| 2010 | Manasvi Mamgai | Uttarakhand |
| 2011 | Kanishtha Dhankar | Haryana |
| 2012 | Vanya Mishra | Punjab |
| 2013 | Navneet Kaur Dhillon | Punjab |
| 2014 | Koyal Rana | New Delhi |
| 2015 | Aditi Arya | New Delhi |
| 2016 | Priyadarshini Chatterjee | Assam |
| 2017 | Manushi Chhillar | Haryana |
| 2018 | Anukreethy Vas | Tamil Nadu |
| 2019 | Suman Rao | Rajasthan |
| 2021 | Manasa Varanasi | Telangana |
| 2022 | Sini Shetty | Karnataka |
Gamaka exponent and Padma Shri awardee, H.R Keshava Murthy passes away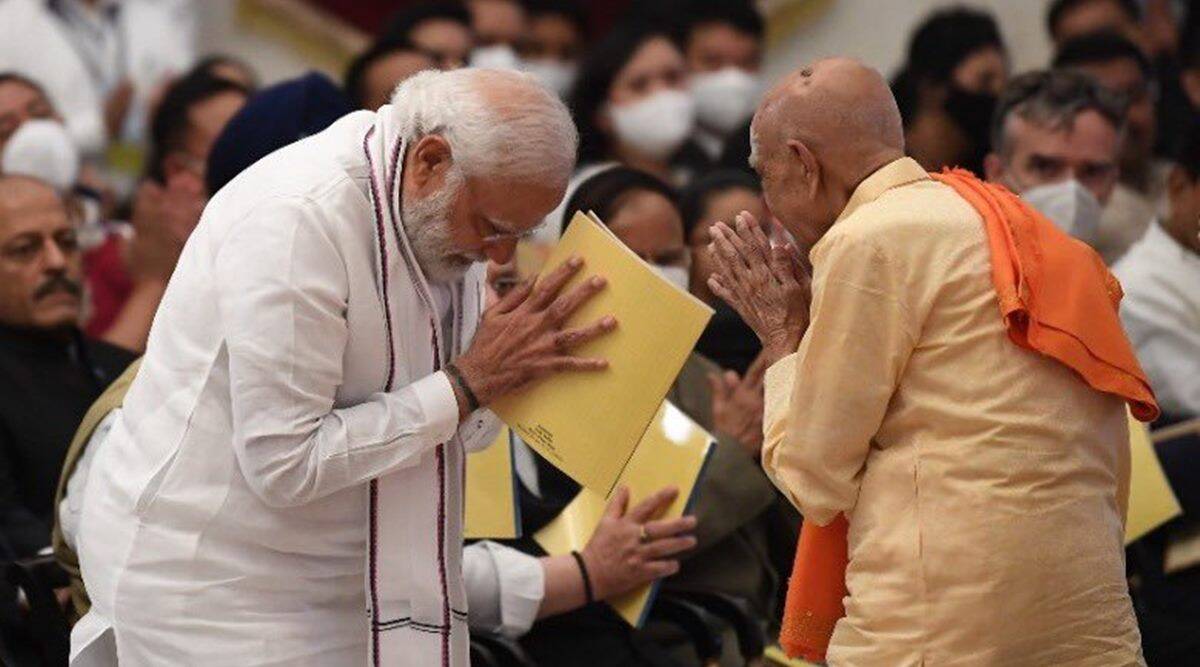 Overview
H.R. Keshava Murthy, a senior gamaka exponent, who was honoured with Padma Shri earlier this year, passed away. He was born in a family of gamaka artists. He had his initial training from his father Ramaswamy Shastry. Under the guidance of Venkateshaiah he continued his studies. Over the decades he has presented hundreds of programmes and trained many students. Through his performances, he publicised noted Kannada epics. Hosahalli, his native place, is known for many music talents.
Awards and Honours:
Keshava Murthy has been honored with many awards inlcuding Shantala Natya Shri award, by the State government and different cultural organisations. The President honoured him with the Padma Shri this year. The residents of his village celebrated the occasion.
What is Gamaka?
Gamaka, also known as kaavya vaachana, is a form of storytelling by singing that originated in Karnataka, India. One person reads a stanza of a poem with highest emphasis on meaning, applying suitable raga or a dhaati (melodic line), usually matching the emotion of the poem; the song generally has no established rhythm.
Another person then explains the meaning of the stanza with examples and anecdotes. Gamaka draws ragas from Kannada folk music, Yakshagana and Carnatic music. The singing itself is called gamaka and the singer a gamaki. The explanation of the rendering is called vyakyana. The emphasis in kaavya vaachana is on literature (Saahithya) and not on music where singer splits, compounds words in poems to make them easier to understand.
Indian Railways opens nation's longest 'escape tunnel' in Kashmir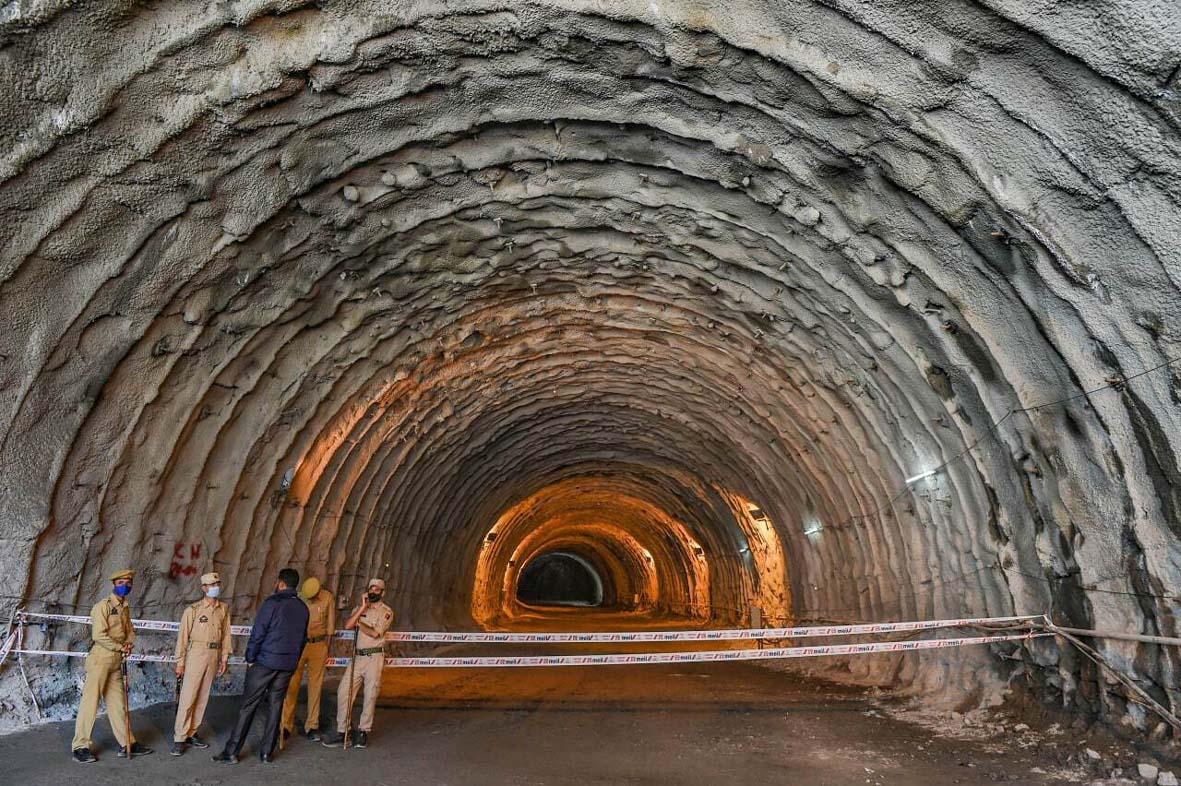 Overview
India's longest escape tunnel:
The Indian Railways on Thursday completed the construction of a tunnel on a 111-kilometre section of the Udhampur-Katra railway line in Kashmir. The 'escape tunnel', which is the longest of its kind in the country, is located at an elevation of 12.89 meters.
According to railway officials, the tunnel was constructed to allow emergency response teams to carry out rescue operations in case of an accident. It passes through various drainages and reservoirs in the Chenab River, including the Khoda, Hingni, and Kundan nullahs making its drilling and construction a challenging task.
The tunnel, which is the fourth on the Banihal-Katra route, was constructed using a modern technique known as the New Austrian Tunnelling Method. It was completed in January this year.
About the escape tunnel:
The escape tunnel has been constructed to facilitate rescue work if an emergency situation arises. The tunnel is a modified horseshoe shape tunnel connecting the Sumber Station yard on the Southside and Tunnel T-50 after crossing Bridge no.04 over Khoda Nallah on the North side, at Khoda village.
The tunnel was constructed by the New Austrian Tunnelling Method (NATM), which is a modern technique of drill and blast processes.
The escape tunnel 'T-13' has been constructed to facilitate rescue work in case of an emergency.
This tunnel is a horseshoe shaped tunnel which connects Sumber station yard and tunnel T-50 on the south side after crossing bridge no.04 over Khoda Nala on the north side at Khoda village.
Tunnel T-49 is a twin tube tunnel comprising the main tunnel (12.75 km) and escape tunnel (12.895 kms) connected with 33 cross-passages.
Longest Tunnels in India – Rail and Road Tunnels:
Atal Road Tunnel, Himachal Pradesh – Longest High-Altitude Tunnel (Length: 8800 meters, or 5.5 miles, approximately.)
Pir Panjal Railway Tunnel, Jammu and Kashmir (Length: 11,215 metres, or 11.22 km.)
Dr Syama Prasad Mookerjee Road Tunnel, Jammu and Kashmir (Length: 9280 metres, or 9.34 km.)
Trivandrum Port Railway Tunnel, Kerala (Length: 9020 metres, or 9.02 km.)
Banihal Qazigund Road Tunnel, Jammu and Kashmir (Length: 8500 meters, or roughly 8.5 km)
Sangaldan Railway Tunnel, Jammu and Kashmir (Length: 8000 meters, or approximately 8 km.)