Important Notice
We are adapting GyanOk in accordance with the recent TDS policy changes (as outlined in Section 194BA of the Income Tax Act, 1961, by the Finance Act 2023). During this transition, withdrawals from the wallet will be temporarily suspended. However, all tournaments and competitions will remain free of charge to ensure that our users can continue to enhance their knowledge without any interruption.
21 September 2022

By GyanOk
Daily Current Affairs Notes for 21 September 2022
World's First Cloned Arctic Wolf
Scientists in China have successfully cloned wild Arctic Wolf for the first time.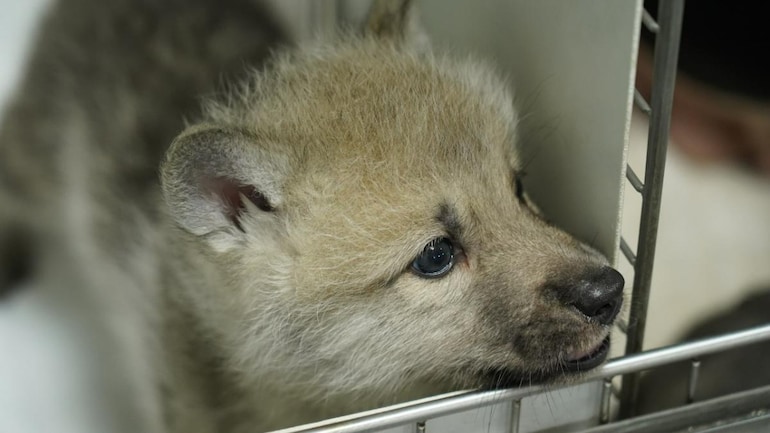 Overview
A Beijing-based gene firm had succeeded in cloning the Arctic Wolf to prevent the endangered species from going extinct.
The newly cloned wolf was named Maya, which means good health.
The donor cell of the wolf came from a skin sample of a wild female Arctic Wolf. Its oocyte was obtained from a dog.
The cloning process involved the construction of 137 new embryos from enucleated (process of removing nucleus from the cell) oocytes and somatic cells.
85 embryos were transferred to the uteri of seven beagles.
The beagle was chosen as the surrogate mother since this dog breed is found to share genetic ancestry with ancient wolf.
What is cloning?
Cloning is the process of producing living organisms, including cells, tissues etc., with identical genetic materials ether through natural or artificial means. In nature, some organisms produce clones through asexual reproduction. Artificially, the first animal to be cloned was a sheep named Dolly. It was created in 1996 by a Scottish scientist using an udder cell from an adult sheep. Recently, in July 2022, Japanese scientists have succeeded in producing cloned mice using freeze-dried skin cells. This new breakthrough makes it possible to practice bio-banking, which involves saving animal cells and creating clones from them.
About Arctic Wolf
The Arctic Wolf is also known as white wolf or polar wolf. It is native to the High Arctic tundra of Canada's Queen Elizabeth Islands. It is a subspecies of the grey wolf. This medium-sized wolf is smaller than the Alaskan timber wolf. Since the 1930s, there has been a significant decline in the size of the Arctic wolf's skull because of the wolf-dog hybridization.
Poland opens new canal across the Vistula Spit
Poland has opened a new sea waterway to enable ships to sail from the Baltic Sea and the Bay of Gdansk to ports of Vistula lagoon without relying on Strait of Pilawa in Russia.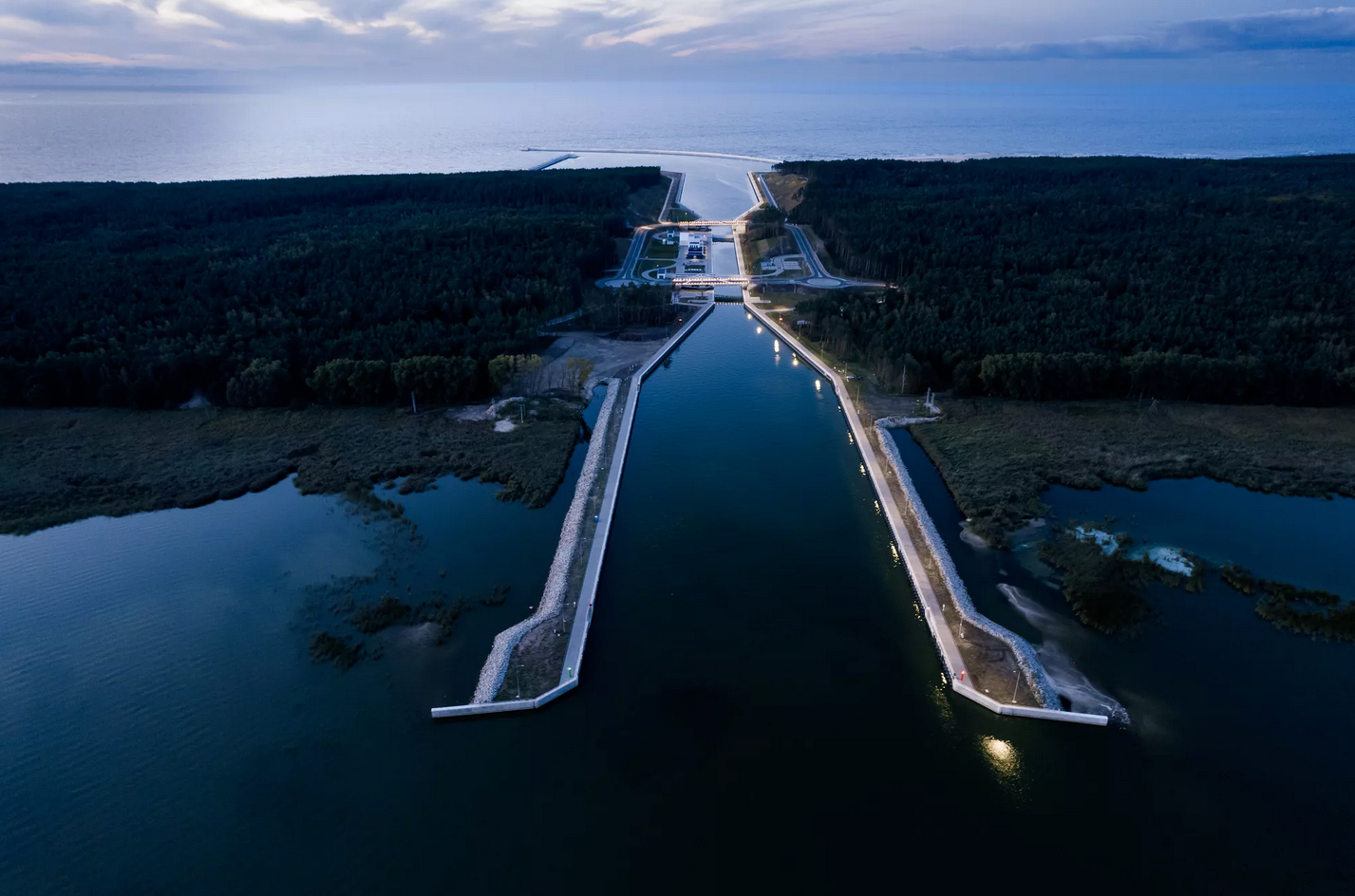 Overview
The new canal was opened on the 83rd anniversary of the Soviet invasion of Poland during the Second World War.
This was done to symbolically demonstrate the end of Russia's influence on the country's economy and development.
The new canal cuts across the Vistula Spit, east of Gdansk, enabling ships sailing to travel from the Baltic Sea and the Bay of Gdansk to Elblag and other ports of the lagoon without getting authorization to travel through Russia's Strait of Pilawa.
It also reduces the Baltic-to-Elblag route by some 100 km.
Currently, while the smaller ships and yachts can use this route, cargo ships cannot sail through until the approach to the Port of Elblag is deepened to 5 meters. This is expected to cost 21 million USD.
The overall cost of this project is 2 billion USD.
About Vistula Spit
The Vistula Spit is an Aeolian sand spit or a peninsular stretch that separates the Vistula Lagoon from the Gdansk Bay in the Baltic Sea. Its tip is separated from the mainland by the Strait of Pilawa. This spit is politically divided between Poland and Russia as the border between Poland and Kaliningrad Oblast (semi-exclave belonging to Russia) passes through it.
Strait of Pilawa
Situated in Kaliningrad Oblast, the Strait of Pilawa is a waterway that connects the Baltic Sea with the Vistula Lagoon – a brackish water lagoon separated from the Gdansk Bay by the Vistula Spit. The strait is a major shipping route connecting Russian ports of Baltiysk and Kaliningrad in the northeastern lagoon and the Polish ports like Elblag, Braniewo, Frombork etc., with the open sea.
Gujarati film 'Chhello Show' becomes India's official entry for Oscars 2023
Overview
Gujarati film "Chhello Show", a coming-of-age drama about a young boy's love affair with cinema in a village in Saurashtra, is India's official entry for the 95th Academy Awards or Oscar awards, the Film Federation of India (FFI) announced. Titled "Last Film Show" in English, the Pan Nalin directorial will release in theatres countrywide on October 14. The 95th Academy Awards are scheduled to take place on March 12, 2023 in Los Angeles.
How did "Chhello Show" select for Oscar awards?
According to FFI president TP Aggarwal, "Chhello Show" was unanimously chosen over films such as SS Rajamouli's "RRR", Ranbir Kapoor-led "Brahmastra: Part One Shiva", Vivek Agnihotri's "The Kashmir Files" and R Madhavan's directorial debut "Rocketry".
The 17-member jury unanimously chose 'Chhello Show'. There were a total of 13 films of different languages including six in Hindi — 'Brahmastra', 'The Kashmir Files', 'Anek', 'Jhund", "Badhaai Do' and 'Rocketry' — and one each in Tamil ('Iravin Nizhal'), Telugu ('RRR'), Bengali ('Aparajito') and Gujarati ('Chhello Show') as well as few others.
Saffron from Kashmir GI-tagged on sites both domestic and abroad
Overview
Saffron from Kashmir GI-tagged: Farmers in the Union Territory of Jammu and Kashmir are now able to sell their products on domestic and international marketplaces thanks to the GI labelling of Kashmiri saffron. This was said by Chowdhury Mohammad Iqbal, director of agriculture in Kashmir, who today visited the India International Saffron from Kashmir Trade Centre in Dussu in the Pampore neighbourhood of the Pulwama district of south Kashmir to see how it was operating there.
India emerges as Sri Lanka's largest bilateral lender overtaking China
Overview
India becomes the largest bilateral lender for Sri Lanka and overtakes China. In four months of 2022, India has provided a total of 968 million US Dollars in loans to Sri Lanka. China has been the largest bilateral lender to Sri Lanka for the past five years from 2017-2021.
Key Points related to Bilateral Lender of Sri Lanka
Asian Development Bank (ADB) has been the largest bilateral lender in the past five years.
In 2021, a total of 610 million dollars were provided to Sri Lanka by the Asian Development Bank (ADB).
India has provided 4 billion dollars in food and financial assistance to Sri Lanka.
India handed 21,000 tonnes of fertilizers to Sri Lanka on August 2022.
Since the beginning of 2022, Sri Lanka is suffering from an economic crisis and the default of the government has made the situation worse.
The Country is indebted to foreign loans and is battling severe food and fuel scarcity.
The economic crisis has affected a large number of people in the country.