19 December 2022

By GyanOk
Daily Current Affairs Notes for 19 December 2022
FIFA World Cup 2022 concludes: Argentina beats France on penalties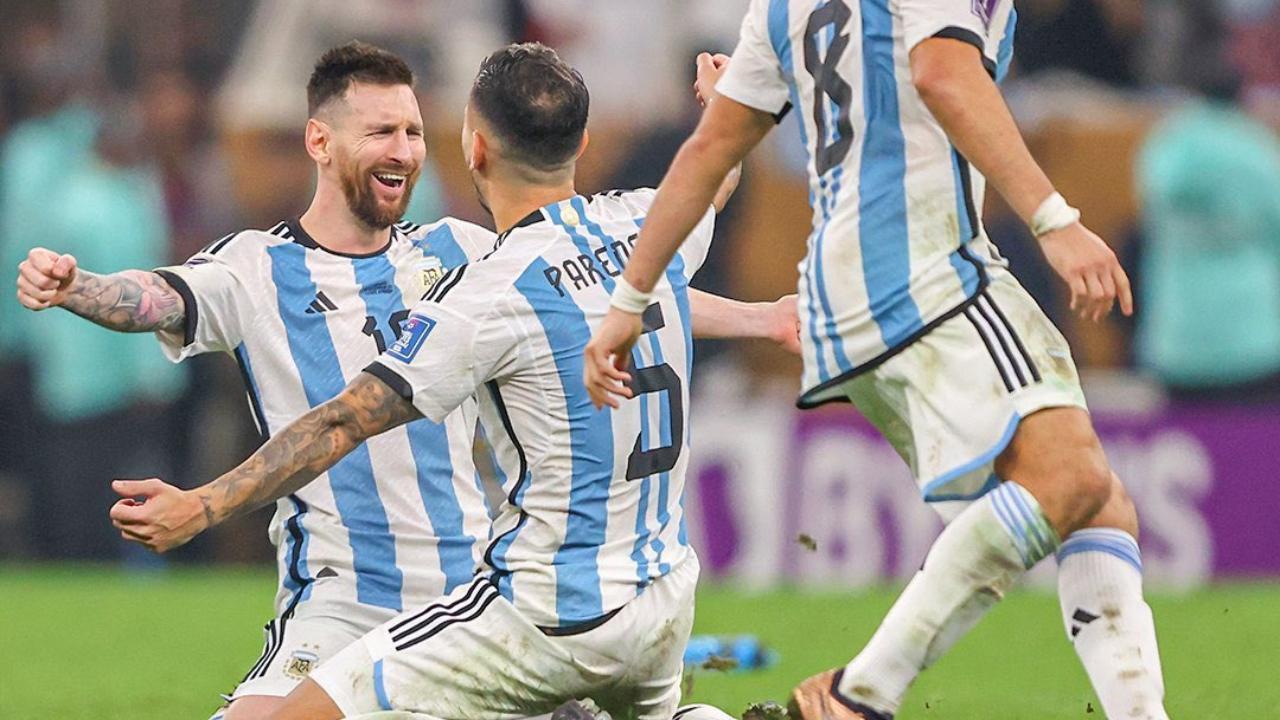 Overview
Argentina defeated France 4-2 in a penalty shoot-out to win the World Cup for the third time on Sunday. Argentina captain Lionel Messi scored twice and France striker Kylian Mbappe hit a hat-trick as a thrilling World Cup final finished 3-3 after extra time at the Lusail Stadium.
In an extraordinary night of high drama, Argentinian substitute Gonzalo Montiel stroked home the winning spot-kick to seal an agonising shoot-out loss for defending champions France. France had fought back from 2-0 down and 3-2 down in extra-time to make it 3-3 and take the game to penalties.
Messi had given Argentina the lead from the penalty spot in the first half before Angel Di Maria made it 2-0. The Argentinians looked to be cruising to victory until Mbappe scored twice in the 80th and 81st minutes to level it at 2-2.
FIFA 2022: From Mohanlal to Kartik Aaryan, Indian celebs watch world cup final in Qatar
France looked the likelier team to go on and win it, but Messi put Argentina 3-2 ahead in extra-time after poking home from close range after Lautaro Martinez's shot was parried by France goalkeeper Hugo Lloris.
But there was more drama two minutes from the end of extra-time when Montiel conceded a penalty for handball. Messi's Paris Saint-Germain team-mate Mbappe stepped up to score from the spot for the second time to take the game to penalties.
FIFA World Cup 2022 Golden Boot, Know Golden Boot 2022 Winners
Overview
Lionel Messi, Kylian Mbappe and Emiliano Martinez collected the big individual prizes at FIFA World Cup 2022 in Qatar.
Just a matter of minutes before lifting the World Cup trophy for the first time, following Argentina's epic penalty shoot-out win over France, Messi received the Golden Ball awarded to the tournament's best player.
Messi had won the Golden Ball in 2014 in Brazil where Argentina suffered heartbreak in the final, going down 1-0 in extra time to Germany. But this time, the 35-year-old got his hands on the one trophy that had thus far eluded him throughout his spectacular career.
Mbappe took the Silver Ball for second place with 2018 Golden Ball winner Luka Modric receiving the Bronze Ball for third.
Kylian Mbappe pips Lionel Messi to Golden Boot
Mbappe took the Golden Boot after his hat-trick in the final put him on eight goals, one clear of PSG club colleague Messi who scored twice on the day. That took Mbappe to 12 goals in just two tournaments with Miroslav Klose's record of 16 World Cup goals definitely in his sights. The 23-year-old has scored 36 goals in 66 France appearances and continues to bolster his reputation as one of the finest forwards on the planet.
Emi Martinez takes Golden Glove after more penalty heroics
Argentina goalkeeper Martinez scooped the Golden Glove for best goalkeeper after saving a penalty from Kingsley Coman in the shoot-out.
He also made a wonderful save late in extra time to deny Randal Kolo Muani a goal which would have put France ahead for the first time.
The Aston Villa shotstopper had been the hero of Argentina's quarter-final victory over the Netherlands, making two saves in the penalty shoot-out.
Enzo Fernandez takes Young Player award
There was another Argentinian winner in Qatar as Enzo Fernandez claimed the Best Young Player award.

The Benfica midfielder was a substitute in his country's first two matches, but his spectacular strike against Mexico helped cement him a starting berth.

Fernandez, who turns 22 next month, formed a strong midfield trio alongside Rodrigo De Paul and Alexis Mac Allister which allowed Messi to weave his magic.

His performances have attracted the attentions of the biggest clubs in Europe with Real Madrid and Liverpool reportedly interested in acquiring his services.

Beaten quarter-finalists England received the Fair Play Award after picking up just one booking in five matches.
International Migrants Day 2022: 18 December
Overview
International Migrants Day 2022: It is observed on 18 December every year. Globalization with the advancement of communications and transportation has greatly increased the number of people, who have desired and the capacity to move to other places. Across the world, this new era has created challenges and opportunities for societies.
It has been seen that today more people live in a country other than the one in which they were born. According to the UN, the number of migrants globally reached an estimated 272 million in 2019 more than in 2010 which is 51 million. The proportion of international migrants in the world population has also risen compared to 2.8 percent in 2000 and 2.3 percent in 1980. Some individuals migrate out of choice and many others migrate out of necessity.
According to the UN Secretary-General Antonio Guterres, "On this International Migrants Day, let us seize the opportunity of the recovery from the pandemic to implement the Global Compact for Sale, Orderly and Regular Migration, reimage human mobility, enable migrants to reignite economies at home and abroad and build more inclusive and resilient societies".
About Migrant
As per UN Migration Agency (IOM), a migrant is any person who is moving or has moved across an international border or within a State away from his/her habitual place of residence, regardless of;
- the person's legal status
- whether or not the movement is voluntary or involuntary
- what may be the causes for the movement are or
- what may be the length of the stay is
International Migrants Day 2022: Theme
The theme for International Migrants Day 2022 is Integrating migrants into primary health care.
The theme of International Migrant Day 2020 is 'Reimagining Human Mobility'. During the past months, migrants are at the forefront of the fight against COVID-19. Their work in various sectors including health, transportation, and food services made our lives under lockdown more bearable.
We can't say that the pandemic is an excuse to roll back commitments to promote and protect the rights of migrants regardless of their legal status. It cannot become an excuse ts of migrants regardless of their legal status. It cannot become an associated excuse for the multiplied use of detention, usually in overcrowded conditions, and also the forced return of migrants to their countries of origin while not due process of law, in various cases in violation of international law.
They contribute their knowledge, networks, and skills to build stronger, more resilient communities. Due to COVID-19, millions of migrants are stranded, facing job loss and some sort of discrimination. Living without income or shelter. Also, unable to return home due to COVID-19 mobility restrictions and face increased risks of trafficking and exploitation.
We can't say that the pandemic is an excuse to roll back commitments to promote and protect the rights of migrants regardless of their legal status. It cannot become an excuse for the increased use of detention, often in overcrowded conditions, and the forced return of migrants to their countries of origin without due process, in many cases in violation of international law.
Therefore, it is our collective responsibility to create a safer, more resilient world. Migration should be a choice and not a necessity.
48th Meeting of GST Council

Overview
The 48th Goods and Service Tax (GST) Council meeting at the national capital Delhi on 17 December has concluded without any decisions on the highly anticipated GST Appellate Tribunals, tax rate applicable on gutkha and pan masala.
Issues On the table:

Decriminalisation of offences: Increase in monetary threshold, from the current ₹5 crore to ₹20 crore, for launching legal proceedings against offenders. Additionally, the fee payable by a taxpayer for compounding of GST offences be lowered to 25% of the tax amount, down from the up to 150% currently.
Tax evasion: A report on tax evasion by the tobacco industry (pan masala, gutka), along with a possible mechanism to curb the evasion.
GST on online gaming: As proposed by a Group of Ministers (GoM), increasing the indirect tax on online gaming, casinos, and horse racing, to 28%, from the existing 18%.
GSTATs: Setting up GST Appellate Tribunals (GSTATs) with a retired Supreme Court judge as President, and also consisting of two judicial members, and technical members (from the Centre and states).
Rate applicability: The Council may also give clarity on the rate applicability on certain goods and services.
Key Highlights of 48th GST Council Meeting:
Threshold limit of for launching of GST offences increased to Two Crores except in case of fake invoices.
5% GST Ethyl Alcohol applicable to Blended Petrol Decriminalized certain offences of Obstruction of services by officers, failure to supply information etc.
E-Com Portals can supply goods of Unregistered Suppliers
No Claim Bonus offered by Insurance Companies does not attract GST
No Decision on GST Appellate Tribunal Both GoM Reports on Pan Masala, Gutka and GSTAT to be discussed in Next Meeting.