Important Notice
We are adapting GyanOk in accordance with the recent TDS policy changes (as outlined in Section 194BA of the Income Tax Act, 1961, by the Finance Act 2023). During this transition, withdrawals from the wallet will be temporarily suspended. However, all tournaments and competitions will remain free of charge to ensure that our users can continue to enhance their knowledge without any interruption.
14 September 2022

By GyanOk
Daily Current Affairs Notes for 14 September 2022
Hindi Diwas 2022: Check history and Interesting facts
Overview
Hindi Diwas or Hindi Day is observed every year on 14 September to mark the popularity of Hindi as an official language of India. The language was adopted under Article 343 of the Indian Constitution. The first Hindi day was celebrated on 14th September 1953. Hindi is one of the major languages used in India as a large portion of the country's population knows and uses the language. Schools, colleges and other educational institutions celebrate Hindi Diwas by organising various programs.
Why is Hindi Diwas celebrated?
Hindi Diwas is celebrated to commemorate the adoption of Hindi in the Devanagari script as one of the official languages of the nation. Hindi was adopted by the National Constitution on September 14, 1949 and it became the official language of the country. India's first prime minister, Jawaharlal Nehru, decided to celebrate September 14 as Hindi Diwas.
Hindi Diwas also marks celebrating the birthday of Beohar Rajendra Simha who played a crucial role in getting Hindi in the Devanagari script approved as an official language of India. He was born on 14 September 1916.
Interesting facts about the Hindi language:
Hindi language is written in Devnagiri script and is a descendant of Sanskrit.
Over 50 crore people in India speak Hindi.
Commonly used Hindi words like 'Surya Namaskar' and 'Jugaad' are part of the Oxford Dictionary.
First journal in the Hindi language was published on the Internet in 2000.
The word Hindi is derived from the Persian Word Hind which means "Land of Indus River".
Hindi is the fourth most spoken language of the world. The first three are Chinese, Spanish and English.
Hindi is spoken in countries like Nepal, Pakistan, Sri Lanka, New Zealand, UAE, Bangladesh, Mauritius, Tobago, etc.
Central Hindi Directorate, Government of India regulate the provisions regarding the Hindi language.
The first state of India that accepted Hindi as its official language was Bihar.
The first Hindi poem was composed and released by Amir Khusro.
The former Prime Minister of India Atal Bihari Vajpayee delivered a speech in the Hindi Language at the United Nations in 1977.
HDFC Bank issues India's first Electronic Bank Guarantee
Overview
HDFC Bank, India's largest private sector bank, became the first bank in the country to issue an Electronic Bank Guarantee (e-BG) in partnership with National E-Governance Services Limited (NeSL). The paper-based, time-consuming process has been eliminated with the new electronic bank guarantees that can be processed, stamped, verified and delivered instantly with enhanced security. This is a transformational change, and the Bank will migrate to e-BG to benefit all its customers.
Highlights:
Paper-based bank guarantees takes 3-5 days to complete the process of physical pick up from the bank, courier to the beneficiary, stamp it and re-verify it. Besides, there was no central repository for bank guarantees until now.
Bringing inefficiency of time, eBG offers enhanced security. Physical stamping has been eliminated and replaced with eStamping and with eBG, the applicant and beneficiary can instantly view a bank guarantee on the NeSL portal.
Qimingxing-50: China's First Fully Solar-powered Unmanned Aerial Vehicle(UAV)
China has successfully tested its first fully solar-powered unmanned (UAV) which can fly for months and can function even as a satellite ifaerial vehicle required.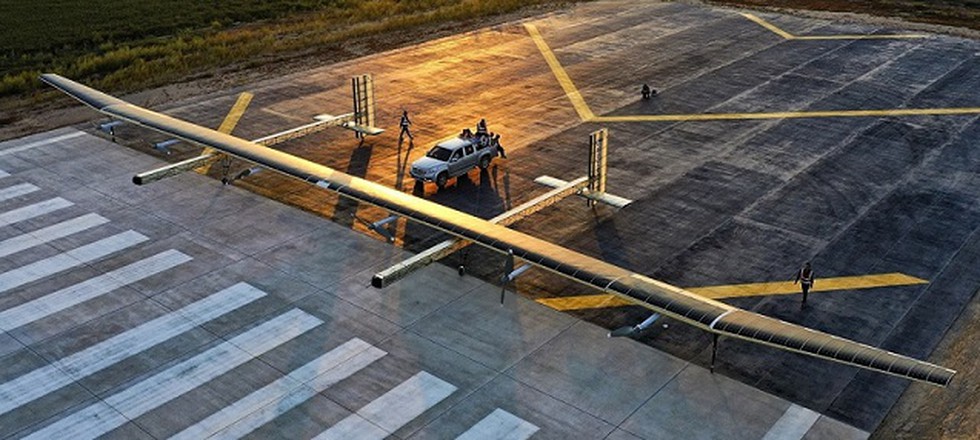 Overview
China has successfully tested its first fully solar-powered unmanned aerial vehicle (UAV) which can fly for months and can function even as a satellite if required. The maiden flight of Qimingxing-50 has been achieved, making it the first large-sized UAV powered only by solar energy, a Chinese government official informed in a tweet.
When The Trial Was Conducted:
According to a report in the South China Morning Post, the drone took off from an airport in the north-western Chinese province of Shaanxi at 5.50pm on September 3 and propelled in the sky for about 26 minutes before landing safely at 6:16pm.
What is the significance of this test flight:
The Qimingxing-50, with a wingspan of 50 m, is a high-altitude long-endurance drone that is capable of high altitude aerial reconnaissance, assessing forest fire and can also be used for communications. This technology will bolster Chinese defences in space and at sea. It can be used in the field of renewable energy, new materials and aeronautical engineering. The Chinese official also asserted that this test flight is an important step towards sustainable development.
The UAV, whose name translates as Morning star-50 in English, is claimed to be capable of functioning uninterrupted for months. This capability of having long endurance flight gives it a use case of operating as a satellite. Like satellites, it is fully electric-driven powered by solar energy and can operate at 20 km above the Earth's surface for an extended period continuously. It is also referred to as a 'High Altitude Platform Stations' or a pseudo satellite. It can be used when there is unavailability or disruption in satellite services. Compared to the cost and complexity of installing a satellite in orbit, this UAV is much more cost-effective and easy to operate, the report says.
Armenia-Azerbaijan Border Clashes Again
Overview
Fresh clashes broke out between Armenia and Azerbaijan, with each side reporting casualties and blaming the other for the violence. Armenia said Azerbaijani forces attacked several points near the border, killing 49 Armenian soldiers. Azerbaijan said Armenian forces fired on its positions, leaving an unspecified number of casualties. The two countries have had a decades-long conflict involving the Nagorno-Karabakh region, which is inside Azerbaijan but populated mainly by ethnic Armenians.
The War So For:
A six-week war in 2020 killed more than 6,600 people and saw Azerbaijan reclaim territory in and around the region. U.S. Secretary of State Antony Blinken called on the two sides to "end any military hostilities immediately," saying in a statement that there is no military solution to the conflict. Russia's Foreign Ministry also urged Armenia and Azerbaijan to resolve the conflict through political and diplomatic means.
What The Both Countries Said:
Armenia says at least 49 of its soldiers have been killed in fighting along the country's border with Azerbaijan, claiming the attacks were carried out because of a simmering dispute over Nagorno-Karabakh.
Azerbaijan says its forces returned fire to prevent "large-scale provocations" by the Armenian military, adding it is "in control" of the situation in the region.
What is behind the Armenia-Azerbaijan conflict:
At the heart of the conflict between the former Soviet republics is the highly contested Nagorno-Karabakh region, where two wars have been fought over in the 1990s and more recently, in 2020.
The enclave is internationally recognised as Azerbaijani territory, but it is populated with ethnic Armenians who either want to secede or join Armenia.
Azerbaijan considers ethnic Armenians to be illegally occupying their land.
At least 30,000 people were killed in the conflict following the collapse of the Soviet Union in 1991, after ethnic Armenian separatists broke away from Azerbaijan.
The six-week war in 2020 over Nagorno-Karabakh killed at least 6,500 people and ended with a Russian-brokered truce.
Under the deal, Armenia ceded swaths of territory it had controlled for decades and Moscow deployed about 2,000 Russian peacekeepers to oversee the fragile ceasefire.
Uttar Pradesh Government to Provide a Unique Farm ID to the Farmers
Overview
Uttar Pradesh government will provide a Unique Farm ID to the farmers, which will be linked to Aadhar to provide them with all benefits of government schemes. The Unique Farm ID will be similar to the Aadhar card. The government is planning to use Aadhar verification to implement the Unique Farm ID card scheme for the farmers.
Key Points related to Unique Farm ID
During the workshop regarding the Unique Farm ID card scheme, the Government wants to initiate and spread the use of Aadhar in more simpler terms.
Aadhar will be used to make the use of the Unique Farm ID cards more easily. UP government wants to provide all benefits of the government schemes to the farmers and reach up to the maximum number.
The Chief Secretary Durga Shankar Mishra said that the state has saved 8400 crore rupees with the use of Aadhar verification.
Through Aadhar verification more than one crore