Important Notice
We are adapting GyanOk in accordance with the recent TDS policy changes (as outlined in Section 194BA of the Income Tax Act, 1961, by the Finance Act 2023). During this transition, withdrawals from the wallet will be temporarily suspended. However, all tournaments and competitions will remain free of charge to ensure that our users can continue to enhance their knowledge without any interruption.
Daily Current Affairs Notes for 10 January 2023
World Hindi Day 2023 observed on 10th January

Overview
Hindi Divas History
The celebration of World Hindi Day has its roots in the early 20th century, when Hindi was first recognized as an official language of India. In the years following independence, Hindi speakers around the world began to celebrate the language and its culture, and the first World Hindi Day was celebrated in 2006.
World Hindi Day Celebration
On Vishwa Hindi Divas, various events and activities are organized to promote the language and celebrate its rich cultural heritage. These may include speech competitions, debates, cultural programs, and language classes. Schools and colleges also often hold special events to mark the occasion, such as quiz competitions and lectures on the history and importance of Hindi.
In India, World Hindi Day is celebrated with great enthusiasm by the Ministry of External Affairs, which organizes events and activities to promote the language. The day is also marked by the release of special stamps and other commemorative materials by the Indian Postal Department.
In addition to the events and activities organized on this day, World Hindi Day is also an opportunity for people around the world to learn more about the language and its culture. It is a time to appreciate the beauty and diversity of Hindi literature, and to recognize the important role that the language plays in the cultural and linguistic landscape of India and the world.
What's difference between World Hindi Day and Hindi Diwas?
World Hindi Day and Hindi Diwas are two separate events that are celebrated to promote the Hindi language and its culture. However, they are separate events that are celebrated on different days and for different reasons. World Hindi Day is focused on the global promotion of the language, while Hindi Diwas is focused specifically on the recognition of Hindi in India.
World Hindi Day is celebrated on January 10th every year, whereas, Hindi Diwas is celebrated on September 14th every year to mark the adoption of Hindi written in the Devanagari script as the official language of India.
Bharat Petroleum launches low smoke superior kerosene oil for the Indian Army
Overview
BPCL has emerged as the first OMC to commence the supply of the new LSLA grade SKO supplies to the Army, which will go a long way in improving the serving environment and alleviating the issues related to smoke and smell in the use of SKO.
"Normal kerosene emits substantial smoke, which poses a health hazard to the Army personnel who use it at higher altitudes, where oxygen level is very low. Hence, the low-smoke kerosene is a big step towards providing a cleaner fuel to our soldiers operating in very tough terrains," the company said in a statement.
"Supplying Low Smoke Superior Kerosene Oil to the army at a high altitude is our way to thank them for their service to the nation and a small gesture to make their life a bit easy," said Sukhmal Jain, Director (Marketing) at Bharat Petroleum Corporation Limited.
"Currently BPCL has a share of about 16% with the Indian Army, supplying close to 70 TKL of petroleum products annually and BPCL has partnered with Indian Army in provision of over 100 consumer pumps and "Scattered Storage locations" at strategic locations besides actively pursuing key initiatives," said S. Jena, Executive Director (Industrial & Commercial), BPCL.
Benefits of this oil:
SKO supply to the Army is vital as it is consumed as fuel in the room heaters (Bukhari) at the high-altitude camps. The Army consumes about 70 TKL/A of SKO for their Northern and Eastern commands. Northern command consumes a higher quantity of about 45 TKL/A. The low-smoke kerosene is a big step towards providing cleaner fuel.
During the product innovation process, BPCL's Industrial and Commercial (I&C) SBU in association with the Corporate Research & Development Centre (CRDC) and Mumbai Refinery offered the upgraded SKO with tailored parameters related to smoke point and aromatic content and conducted field trials at Karu (Leh -Ladakh) and Gangtok, it said.
After a brief lull, Hawaii's Kilauea volcano erupts again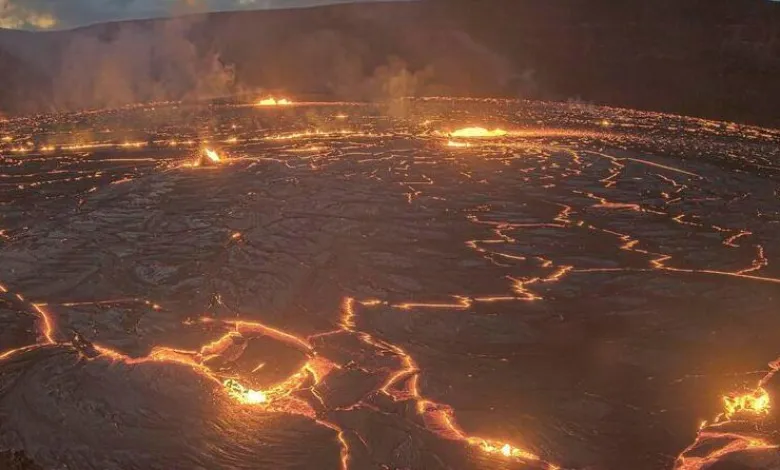 Overview
Hawaii's Kilauea volcano:-
After a brief pause, Hawaii's Kilauea volcano erupted again, spewing lava fountains and discharges of volcanic ash into the air. The eruption started January 5, 2022 afternoon at the volcano's crater, according to a notice issued by the United States Geological Service (GSGS).lava from the volcano is contained in Kilauea's crater, a closed section of Hawaii Volcanoes National Park. The USGS warned locals that the high quantities of volcanic fumes may still be dangerous as they travelled downstream. Elements like sulphur dioxide can combine with the environment to form volcanic smog, which is dangerous to human health. Other dangers include Pele's hair, which are tiny strands of drifting lava, and other delicate volcanic particles that can irritate the skin and eyes. The Hawaiian Volcano Observatory noticed a light in photographs and later concluded that Kilauea had started erupting, according to USGS.
About Kilauea Volcano:-
The Kilauea volcano is the most active of the five volcanoes that make up the Island of Hawaii. It is a shield volcano, which is a type of volcano composed of fluid lava and characterized by its vast lava flow.
Kilauea has two active rift zones and a recently formed caldera, a massive depression formed when the ground surface collapses into an emptied magma chamber. The pit crater within Kilauea is called Halemaumau, which contained a lava lake before it began erupting in multiple locations in 2018.
The volcano Kilauea is among the most active ones on the planet. It last erupted in September 2021 and continued for 16 months. Before its most recent lull in December, Kilauea had been erupting virtually nonstop for more than a year and was the scene of a massive eruption in 2018 that destroyed hundreds of houses.
Since November 27, when Mauna Loa erupted for the first time in 38 years, Hawaii had two volcanoes spouting lava side by side. Around the same time, both volcanoes ceased to erupt. The reason behind both the volcanoes ceasing at around the same time is still unclear.Visitors to Hawaii Volcanoes National Park were able to observe lava from both eruptions at the same time during the twin eruption.
Cultural and Spiritual Significance:-
Volcanic eruptions have significant cultural and spiritual meanings for the native Hawaiians. Many Hawaiians participated in traditional practises during the Mauna Loa eruption, including singing, chanting and dancing in honour of Pele, the god of fire and volcanoes.
The Five Major Volcanoes of Hawaii Island:-
In addition to Kilauea, the Island of Hawaii is made up of four other volcanoes: Kohala (extinct), Mauna Kea (dormant), Hualalai (dormant), and Mauna Loa (active). The island is currently growing due to the activity of Mauna Loa and Kilauea.
Mascot, torch and anthem of Khelo India Youth Games 2022 unveiled in Bhopal
Overview
In Madhya Pradesh, Chief Minister Shivraj Singh Chouhan will unveil the mascot, torch, and anthem of Khelo India Youth Games-2022 in a colorful program at Shaurya Smarak in Bhopal this evening.

Union Minister of State for Youth Affairs and Sports Nishith Pramanik will be the guest of honour. Madhya Pradesh's Sports and Youth Welfare Minister Smt. Yashodhara Raje Scindia informed that in this program various facets of Khelo India will be explained through drone and laser shows.

Madhya Pradesh is hosting the fifth edition of the Khelo India Youth Games. In this sports event, to be held from the 30th of January to the 11th of February, six thousand players will show their sports skills in eight different cities for 13 days.