विशेष सूचना
हम GyanOk को नयी TDS पॉलिसी (वित्त अधिनियम 2023 के तहत, आयकर अधिनियम 1961 में पेश की गई धारा 194BA) के अनुसार बदल रहे हैं। तब तक के लिए वॉलेट से निकासी पर भी प्रतिबंध रहेगा, हालाँकि, यह सुनिश्चित करने के लिए कि हमारे उपयोगकर्ता बिना किसी रुकावट के अपने ज्ञान को बढ़ाना जारी रख सकें, सभी टूर्नामेंट और कॉम्पिटिशन निःशुल्क जारी रहेंगे।
Important Notice
We are adapting GyanOk in accordance with the recent TDS policy changes (as outlined in Section 194BA of the Income Tax Act, 1961, by the Finance Act 2023). During this transition, withdrawals from the wallet will be temporarily suspended. However, all tournaments and competitions will remain free of charge to ensure that our users can continue to enhance their knowledge without any interruption.
Daily Current Affairs Notes for 06 October 2022
herSTART Initiative
herSTART was recently launched by President of India, Draupadi Murmu.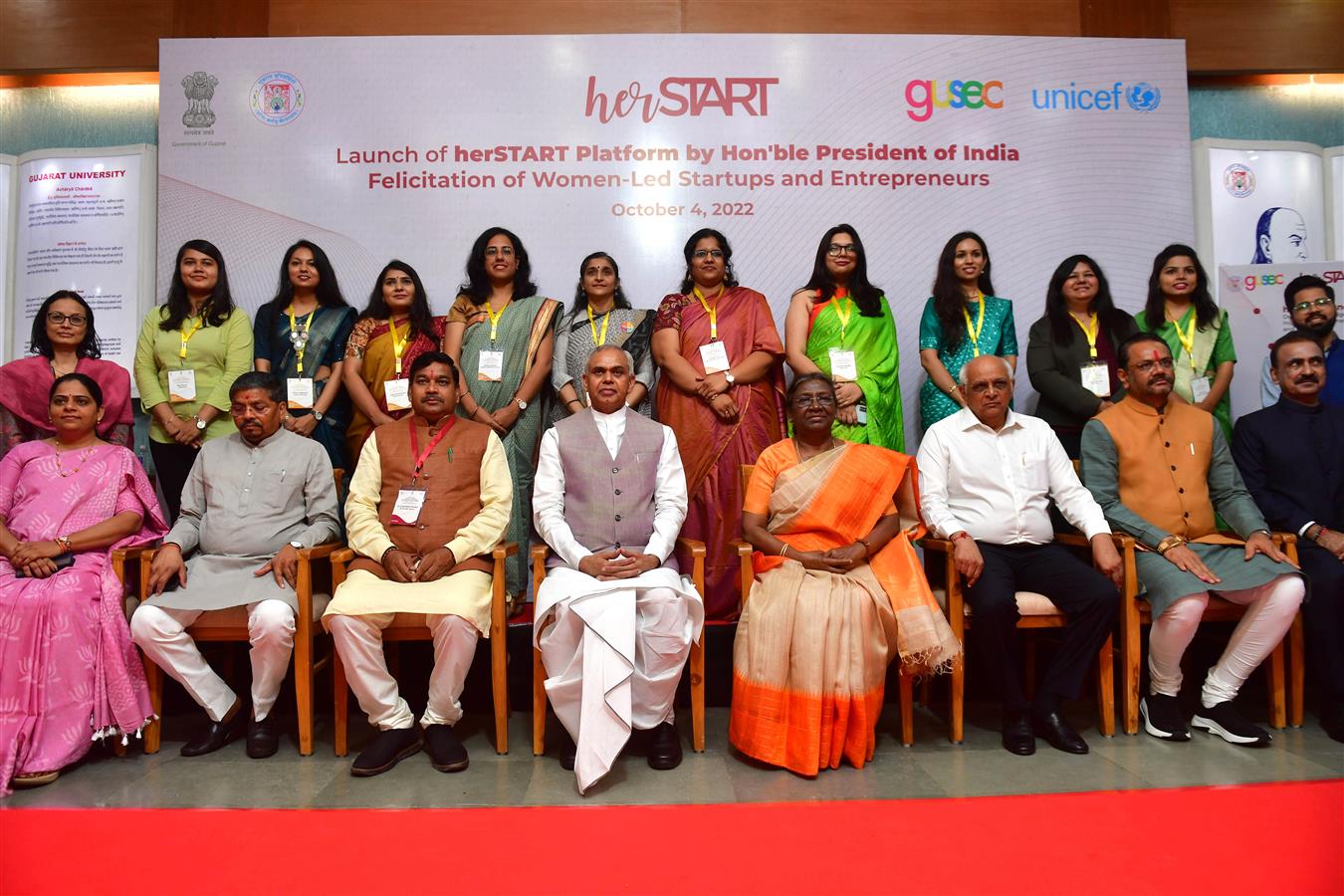 Overview
herSTART is an initiative implemented by the Gujarat University Startup and Entrepreneurship Council (GUSEC).
It is supported by the state government of Gujarat, the Central Government and the United Nations International Children's Emergency Fund (UNICEF).
The Department for Promotion of Industry and Internal Trade (DPIIT) recognized it as key driving initiative of the Gujarat Startup Ecosystem in the States Startup Rankings Framework Report of 2022.
The purpose of herSTART is to aid women-led startups to scale up.
It will connect women-led startups with private and government platforms.
The newly launched platform will also help women entrepreneurs' innovative ideas to take off.
It provides free online resources and training modules to aspiring women entrepreneurs in addition to a digital community and digital publication showcasing their success stories.
It includes the herSTART Incubator (a startup incubator focusing specifically on women entrepreneurs and innovators) as well as herSTART Accelerator (a round-the-year accelerator programme for high-impact women-led startups).
The purpose of this initiative is to boost women-led innovation and startup ecosystem in the country.
As part of herSTART, online and offline modes of engagements have been organized for over 15,000 women entrepreneurs.
More than 2,000 women-led startups have been provided with capacity-building initiatives, with about 2,500 women entrepreneurs taking part in this initiative.
Around 200 mature-stage women-led startups have been accelerated under the herSTART platform and more than 150 startups are being scaled.
These initiatives have significantly eased women entrepreneurs' journey towards success.
Currently, there are 450 startup project operational in Gujarat University. Of these, 125 are led by women.
During the launch event, President Murmu felicitated 10 women-led startups and entrepreneurs supported by the Gujarat University and herSTART.
She also laid foundation stone and launched 11 education development projects worth Rs.164 crore.
Nobel Prize 2022: Carolyn Bertozzi, Morten Meldal & Barry Sharpless gets Nobel Prize in chemistry
Overview
The Nobel Prize in Chemistry 2022 was awarded jointly to Carolyn R. Bertozzi, Morten Meldal and K. Barry Sharpless "for the development of click chemistry and bioorthogonal chemistry" at the Royal Swedish Academy of Sciences in Stockholm. The three have been awarded for their work in 'click chemistry', in which molecules snap together fast and firmly, without the need for a long, complicated process and too many unwanted byproducts. Their work has applications in the field of medical science, including the treatment of cancer. Bertozzi is based at Stanford University in California, Sharpless with Scripps Research, California, and Meldal is at the University of Copenhagen, Denmark.
WhatsApp banking services launched by PNB
Overview
PNB WhatsApp Banking Launched : The government-owned Punjab National Bank (PNB) announced that it has made banking services available to both clients and non-customers via WhatsApp. Customers must save the official PNB WhatsApp number (919264092640) and start a conversation by texting a hello or hi to this number in order to enable the banking feature on WhatsApp.
Adoption of world's first single charger rule
The European Parliament has approved the new rule to introduce single charging port for electronic gadgets by 2024 in the EU.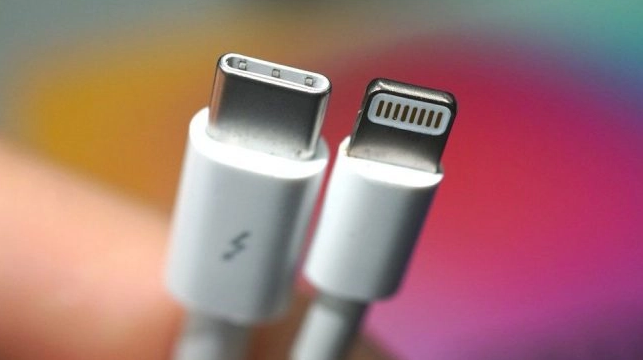 Overview
The new EU law states that all new smartphones, tablets and camera will have a single standard charger.
The new rules allow customers to choose between two chargers – one with and one without USB-C chargers while purchasing a handheld device.
Under the first phase of the law, which will be implemented from late 2024, all mobile phones, tablets and cameras sold in the EU have to be equipped with a USB Type-C charging port.
From 2026, the rules will be expanded to include laptops.
It is expected to impact smartphone manufacturers such as Apple, since these rules will force changes in the charging port of iPhones and other devices for the users in the EU.
The USB Type-C ports can charge up to 100 Watts, transfer data up to 40 GB per second and linked to external displays.
In the next 2 years, the new EU law will affect all handheld mobile phones, handheld videogame consoles, headphones, headsets, tablets, digital cameras, portal speakers, e-readers, earbuds, mice, keyboards and portable navigation systems.
The new law aims to minimise e-waste and empower customers to make more sustainable choices.
It will also simplify the life of Europeans, bring down costs and reduce the number of chargers in the market.
It can save at least 200 million euros each year and significantly bring down electronic waste every year.
Currently, about 11 000 tonnes of e-waste is generated by disposed or unused charges in the European Union each year.
It will also put an end to the technological "lock-in" effect, which involves a customer fully depending on a single manufacturer.
While these rules may adversely affect businesses in the short-term, it will also promote the sales of new and improved versions of gadgets, ensuring profits for tech companies such as Apple, Samsung, Huawei etc.
Swachh Survekshan 2022
The Swachh Survekshan 2022 rankings have been released. This year's edition covered 4,354 cities across India.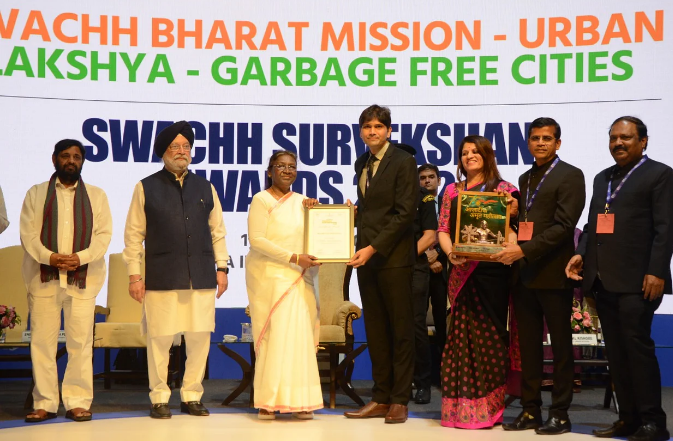 Overview
The Swachh Survekshan is a list of India's cleanest cities released by the Ministry of Housing and Urban Affairs.
This initiative was started in 2016 to encourage urban sanitation. It is the largest urban cleanliness and sanitation survey in the world.
The cities are assessed based on 3 parameters- service level progress (worth 3,000 marks), certification (worth 2,250 marks) and citizens' voice (worth another 2,250 marks). This adds to a total of 7,500 marks.
The 2022 edition listed Indore as the cleanest city (with more than 1 lakh population)- marking the 6th time the city of lakes and palaces topped the Swachh Survekshan list. Following Indore, Surat (2nd spot for 2nd consecutive year) and Navi Mumbai were named as the 2nd and 3rd cleanest cities respectively.
Indore has become India's 1st 7 star Garbage Free city. The title of 5 star Garbage Free city was conferred to Surat, Bhopal, Mysuru, Vishakhapatnam, Navi Mumbai and Tirupati.
Among cities with less than 1 lakh population, the list was topped by Panchgani in Maharashtra, followed by Patan (NP) in Chhattisgarh and Karhad in Maharashtra.
Among the Ganga towns with more than 1 lakh population, Haridwar in Uttarakhand was named the cleanest city, followed by Varanasi and Rishikesh.
Among Ganga towns with less than 1 lakh population, Bijnor was listed as the cleanest, followed by Kannauj and Garhmukhteshwar.
Apart from this, Tirupati was given the best city award in the Safai Mitra Suraksha. Shivamogga in Karnataka got the fast mover city award.
Among the states, Madhya Pradesh was named as the top performer, followed by Chhattisgarh and Maharashtra.
Among states having less than 100 ULBs (urban local bodies), the list was topped by Tripura.