Important Notice
We are adapting GyanOk in accordance with the recent TDS policy changes (as outlined in Section 194BA of the Income Tax Act, 1961, by the Finance Act 2023). During this transition, withdrawals from the wallet will be temporarily suspended. However, all tournaments and competitions will remain free of charge to ensure that our users can continue to enhance their knowledge without any interruption.
Daily Current Affairs Notes for 04 January 2023
World Braille Day 2023 celebrates on 4th January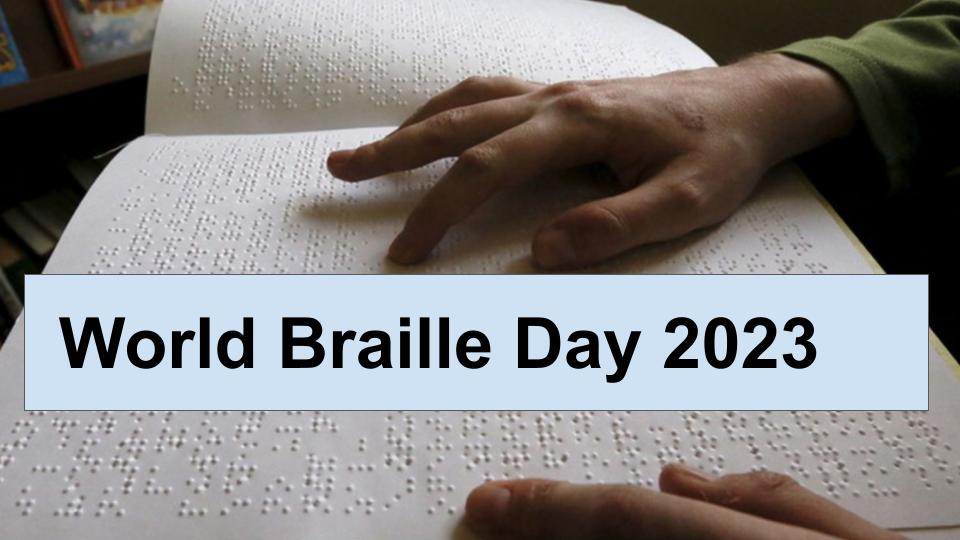 Overview
World Braille Day 2023: In remembrance of the birth of Louis Braille, the inventor of Braille, January 4 is marked as World Braille Day. The day also recognizes that people with visual impairments should have the same access to human rights as everyone else.
What is a Braille System?
Each letter of the alphabet and each number are represented by six dots in the tactile writing system known as Braille. Additionally, the dots stand for mathematical, scientific, and musical symbols. People who are blind or partially sighted can read and write using this system. They are able to read books with the visual font using Braille.
World Braille Day 2023: History
January 4, 2023, is designated as World Braille Day to promote understanding of the importance of Braille as a form of communication and the full realization of human rights for those who are partially sighted or blind. The UN General Assembly proclaimed January 4 to be World Braille Day in November 2018. The following year, the first-ever World Braille Day was commemorated and recognized as a global holiday.
The UNGA chose the day for the celebration in a proclamation, which also happens to be Louis Braille's birthday. When Louis Braille was a young child, he accidentally stabbed himself in the eye with his father's awl, which caused him to lose his vision. He spent time at the Royal Institute for Blind Youth in France starting at the age of 10, where he developed and perfected the raised-dot system that eventually became known as Braille. Unfortunately, Braille was unable to witness the usefulness of his creation. Two years before the Royal Institute started teaching Braille, in 1852, he passed away.
World Braille Day 2023: Significance
Braille has gradually gained acceptance as the primarily written information format for blind people throughout the world. The purpose of the day is to promote understanding of the value of Braille as a communication tool and the full realization of human rights for those who are blind or partially sighted.
According to a World Health Organization report, visually impaired people have higher rates of poverty and endure lifetime inequality. According to reports, the issue has become more serious since the pandemic.
World Braille Day 2023: Interesting facts
Developed in 1819 by the French army, soldiers used Braille to communicate at night without speaking or using candles.
In 1999, NASA's Deep Space 1 flew past an asteroid on its way to photograph Borrelly's Comet and named it '9969 Braille' in acknowledgment of Louis Braille.
Braille is an alphabet that can be used to write almost any language and versions are available in Arabic, Chinese, Hebrew, Spanish, and more.
Uncontracted Braille spells out every word, whereas contracted Braille is a shorthand version that abbreviates familiar words.
There's a unique version of Braille specifically for mathematics and science, called the Nemeth Code.
Family classics, such as Uno, Monopoly, and LEGO are available in Braille versions.
An annual competition for students who are blind, the Braille Institute hosts more than 1,400 students from the U.S. and Canada to test their braille skills.
While a sighted person can read 300 words per minute, some fast braille readers can whip through a book at a speed of 400 words per minute.
World Braille Day offers a chance to promote conversations about the Rights of Persons with Disabilities Act, and the prevention, identification, and treatment of eye disease. The challenges that blind and partially sighted people face on a daily basis are also highlighted by World Braille Day. Braille Day also draws attention to the disregard for blind people by the authorities.
Election Commission Launches 'Mission-929' to Take Voter Turnout in Tripura to over 90%

Overview
The Election Commission (EC) is focusing on 929 polling booths across Tripura, setting a target of 92 per cent voter turnout in the assembly elections due early this year, an official said on Sunday. These booths recorded a voter turnout of less than 89 per cent, which was the average across 3,328 booths in the 2018 assembly polls, he said.
"To turnaround the relatively low voting percentage in these booths, the EC has launched 'Mission-929'. Apart from an awareness campaign, poll officials will visit senior citizens and persons with disability, and appeal them to cast their votes," the official said.
He said all requisite arrangements such as ramps, wheelchairs and separate queues will be arranged at every polling station to felicitate senior citizens and persons with disability.
"Besides, special security measures will be ensured so that voters can cast their votes. By all-around efforts from all stakeholders, it will be possible to achieve the target of 92 per cent turnout during the upcoming elections," he said.

The official said that the EC is also working on 'Mission Zero Poll Violence' to make the assembly elections peaceful.

"An elaborate plan has been chalked out to avoid any kind of untoward incident during the elections. Assembly constituency-wise workshops will also be organised to achieve the mission," he said.
Even though the elections are held in a festive atmosphere in the state, those are often marred by violence, the official said.

Around 50 companies of central forces have already arrived in the state for election-related deployments, and 50 more companies will be coming to ensure free, fair and peaceful elections, he said.
PM Modi Inaugurated Dr. Syama Prasad Mookerjee National Institute of Water and Sanitation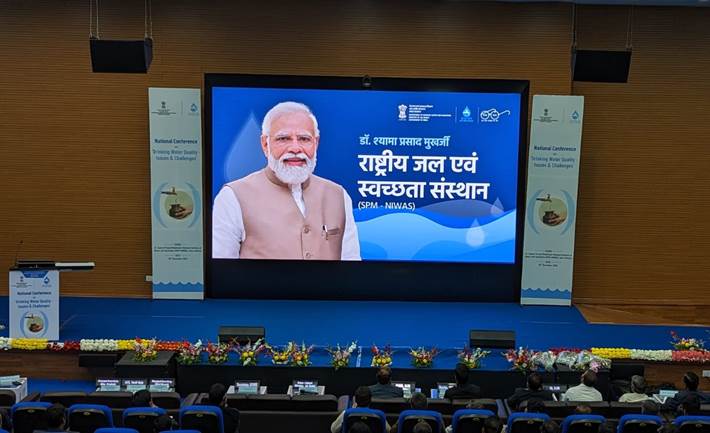 Overview
Prime Minister Narendra Modi inaugurated the Dr. Syama Prasad Mookerjee National Institute of Water and Sanitation (SPM-NIWAS) at Joka in Kolkata via video conferencing. SPM-NIWAS has been set up with a budget of Rs 100 crore, on 8.72 acres of land at Joka, Diamond Harbour Road, Kolkata, West Bengal.
The Department of Drinking Water and Sanitation (DDWS) aims to bridge the knowledge and capacity-building gap in the field of public health engineering, sanitation & hygiene, through short, medium, and long-term courses which are not just related to engineering but also cover aspects of management, health, accounting, law, and public policies.
PM Modi Inaugurated Dr. Syama Prasad Mookerjee National Institute of Water and Sanitation – Key Points
The conference was chaired by the Union Minister for Kal Shakti, Shri Gajendra Singh Shekhawat.
The Union Minister reiterated the Prime Minister's vision of cooperative federalism and states that under Swachh Bharat Mission, Namami Gange, and Jal Jeevan Mission, the combined efforts are being recognized around the globe.
Smt. Vini Mahajan, Secretary, DDWS, urged States to focus on water service delivery.
She also asked the participating states to list issues in water service delivery, discuss, and come out with an action plan for effective implementation of the program.
DDWS has set up sanitation and miniature models at the Institute for awareness generation and capacity building through visual depiction.
These models include Eco-San Toilet, Septic Tank, Tiger Toilet, Twin Pit Toilet, NADEP Composting Pit, Vermicomposting Tank, Sanitation Chamber, Magic Pit, Soak Pit, Water Stabilization Pond, and Constructed Wetland.
Noted Rabindra Sangeet exponent Sumitra Sen passes away at 89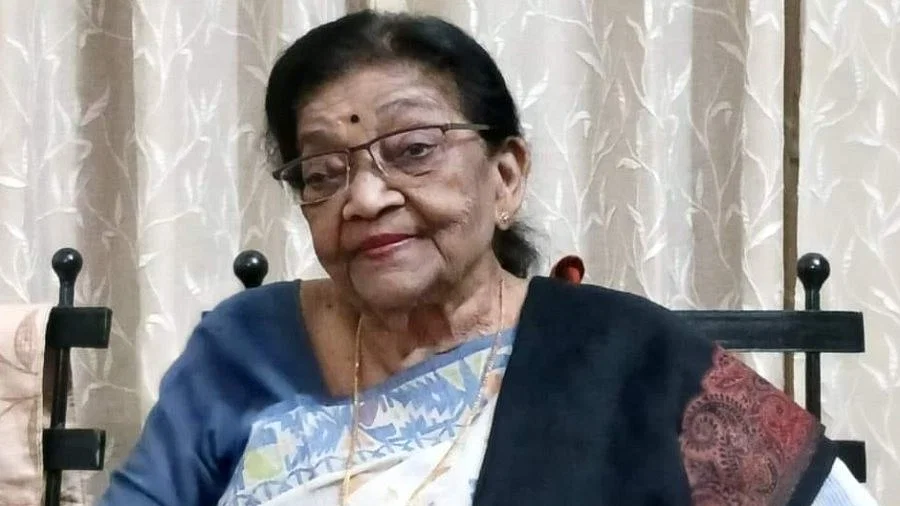 Overview
Sumitra Sen
Noted Rabindra Sangeet exponent Sumitra Sen passed away in Kolkata Monday. She was 89. Her daughter Srabani Sen took to the social media platform Facebook to inform of her death.
"Mother left us today at dawn," Srabani wrote in Bengali. Reports state that Sumitra Sen died due to a heart attack after her organs started failing due to an infection.
Reports said that Sen had been sick for some time and was admitted to a private hospital on December 29 after catching a cold. She was diagnosed with bronchopneumonia, a condition where the lungs are infected and gradually fill with fluid. As complications from her condition arose, the singer's family brought her back home after a consultation with her doctors. Sen was also suffering from age-related ailments.
About the Rabindra Sangeet:
Rabindra Sangeet also known as Tagore Songs, are songs from the Indian subcontinent written and composed by the Bengali polymath Rabindranath Tagore, winner of the 1913 Nobel Prize in Literature. Rabindra Sangeet refers to the 2000 plus songs and poetry of love and devotion composed by Tagore. Out of these only 730 songs for which the bard had written the notations are currently sung. These songs are regarded as cultural treasures of Bengal in both West Bengal and the predominantly Muslim Bangladesh.